In honor of Love Our Lurkers Day I thought I would talk about something near and dear to my heart- Lingerie!
I have said it before, and I will say it again. I love it! To the point where I may have a bit of a problem. But I am a savvy shopper. I love scoring a sale and finding matching items for pieces I already own (that sort of sounds like I'm antiquing, not underwear shopping). A lot of times I end up at the discount stores, searching through the racks and racks of things. But this is a crap shoot. Some days I can score a great deal, other days there is nothing worth a second glance.
Anyway, my long standing love affair started many years ago at the old stand by Victoria's Secret. They were having some kind of giant sale. This is where I bought my first pieces of lingerie (2 in fact). I still have them and wear them. Over the years, for special occasions, I would go back to this anchor store to spice up the lingerie box (yes, I have a box of it- which is now overflowing). But recently I have noticed a disturbing trend. Everything sort of looks the same. Nothing looks really all that sexy to me.
Then I thought (gasp) is it me? Do I just own so much lingerie and little sexy things that I have desensitized myself to the sexiness of it all??
I called in an expert. My husband. He confirmed my suspicions. He mentioned something about it all sort of looking the same, there were a lot of flowery patterns, and their Pink collection looks like underwear you can see from space.
Don't get me wrong, I would probably still wear it, but now I know hot pink zebra print is not his thing. Also, I think this is actually a sports bra. That's another thing, why is VS selling workout clothes and regular clothes? Where is all the sexy underwear?
Our anniversary was just in September and I wanted to find something new to add to my collection. But where to go? My husband suggested Frederick's of Hollywood. I forgot this was even a store. I vaguely remember them being in our mall when I was in middle school and every time I walked past the window there was always a lot of fringe and tassles. And that's when it hit me, yes! Fringe and tassles. This could be my kind of place!
I found them online. I lost a good chunk of my day drooling over all the sexy things, debating which items I should splurge on and which I could wait for a sale. Then I loaded up my virtual shopping cart. I anxiously awaited the mail man everyday.
I bought a few items but this pair of panties was by far my favorite (and the reaction I got from my husband was pretty awesome too).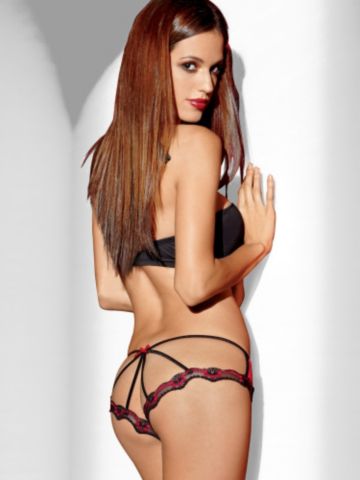 They made me feel instantly sexy. They are completely impractical, but lovely at the same time.
Sure, on an average day I'm usually wearing my cotton, bikini cut panties (not white though- usually striped, or polka dotted, or Muppets). The weekends or when I am going out with my husband I opt for a sexy little lacy thong and matching bra (matching always ups the heat factor for me).
So I want to know, what kind of underwear do you find sexiest? Is there a certain fabric or cut you find sexier? (Either on you or on someone you like looking at in their underwear.)
Stop lurking and leave a comment. I promise I don't bite!